The University of the Incarnate Word is known for celebrating the rich diversity of its students, faculty and staff. Our founders, three young religious women from France, overcame many obstacles (distance, language, travel) to realize their vision for a better world. Today, UIW serves as a global hub for everyone.
Words from our Dean
"Real change starts inwardly, from the transformation of our hearts. It can only be sparked and fueled by a power greater than our own; one that empowers us to fulfill the unique purpose and destiny for which we were created. I believe in justice, kindness, mercy and forgiveness. I believe that we at the UIWSOM can create a microcosm of diversity, inclusion and mutual respect from which justice, mercy and lasting change can flow." 

--Robyn Phillips-Madson, DO MPH, Founding Dean, UIW School of Osteopathic Medicine
Words from Mission and Ministry
"We, members of the University of the Incarnate Word's family, are a community of faith called to see Jesus Christ in the persons of a multitude of sufferers. Hence, we commit to continue working to defend and promote the human dignity of all God's children; to work toward a most just society that addresses the systemic roots and heals the deep wounds of racism; and to ensure the safety and well-being of all so that our entire society can benefit from the unique gifts and talents each individual brings for the betterment of the whole."

--Sr. Walter Maher, CCVI, Vice President, Mission & Ministry, UIW

Read more from Sr. Walter Maher and UIW President Thomas M. Evans PhD in The Word: UIW Community Newsletter - June 5, 2020
Introducing Vital Voices, a new podcast from the Josiah Macy Jr. Foundation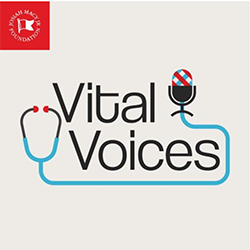 The Macy Foundation is excited to announce the launch of our new podcast, Vital Voices!
The podcast is a follow up to our webinar series "Taking Action on Harmful Bias and Discrimination in Clinical Learning Environments." In each episode, Macy Foundation President, Holly J. Humphrey will be joined by guest experts to discuss issues related to bias and discrimination in clinical learning environments.
Episodes will be posted every other Monday and our preview episode is available for download wherever you get your podcasts and on our website.
Diversity, Inclusion, Anti-Racism and Racial Bias Resources
American Associate of Colleges of Osteopathic Medicine (AACOM)
Visit the   American Association of Colleges of Osteopathic Medicine (AACOM)  for more information on how AACOM is re -committing to educate and train future generations of health professionals who embody the whole fabric of the nation, not just to address disparities in healthcare, but also to improve the overall health of    all     people, especially those who are most vulnerable. AACOM has established an ongoing commitment to increase faculty, staff, and student awareness and understanding of issues of diversity and inclusion through professional development programs. Review resources available at   their website for more information. Please follow this link to view the recent webinar on  Finding a Cure: An Open Discussion on Racism and Injustice in the American Healthcare System.
---
American Medical Association
Stay up-to-date with the latest on diversity in medical school, including recent news and policy coverage. The American Medical Association (AMA) has long been committed to reducing disparities in medical school admissions. Visit their   diversity homepage  for more information.
---
How to Make Your Teaching More Inclusive - The Chronicle of Higher Education
July 22, 2019. By VIJI SATHY and KELLY A. HOGAN. In many courses, the days after the first exam can be stressful. Some students might feel worried about the results, or even doubt their abilities.
Read the more at the Chronicle for Higher Education's Advice Guide
---
Spiritual Histories: Putting Religio-Cultural Competence into Practice | MedEdPORTAL
Introduction: Medical education increasingly recognizes that cultural competence is an important component of patient care. However, religion is an aspect of culture that still often goes unaddressed in medical education. Spiritual Histories: Putting Religio-Cultural Competence into Practice is a resource for medical school educators designed to address this gap in medical education.
Read the full article at MedEdPortal
---
Experiences of Transgender and Gender Nonbinary Medical Students and Physicians.
Oscar E. Dimant, Tiffany E. Cook, Richard E. Greene, and Asa E. Radix.   Experiences of Transgender and Gender Nonbindary Medical Students and Physicians.  Transgender Health. Dec 2019. 209-216.
Abstract
Purpose: 
To explore the experiences of transgender and gender nonbinary (TGNB) medical students and physicians in the United States.
Methods: 
The authors conducted a 79-item online survey using Likert-type and open-ended questions to assess the experiences of TGNB-identified U.S. medical students and physicians. Variables included demographic data, disclosure of TGNB status, exposure to transphobia, and descriptions of educational and professional experiences. Recruitment was conducted using snowball sampling through Lesbian, Gay, Bisexual, Transgender, Queer professional groups, list-servs, and social media. The survey was open from June 2017 through November 2017.
Results: 
Respondents included 21 students and 15 physicians (10 transgender women, 10 transgender men, and 16 nonbinary participants). Half (50%; 18) of the participants and 60% (9) of physicians had not disclosed their TGNB identity to their medical school or residency program, respectively. Respondents faced barriers on the basis of gender identity/expression when applying to medical school (22%; 11) and residency (43%; 6). More than three-quarters (78%; 28) of participants censored speech and/or mannerisms half of the time or more at work/school to avoid unintentional disclosure of their TGNB status. More than two-thirds (69%; 25) heard derogatory comments about TGNB individuals at medical school, in residency, or in practice, while 33% (12) witnessed discriminatory care of a TGNB patient.
Conclusion: 
TGNB medical students and physicians faced significant barriers during medical training, including having to hide their identities and witnessing anti-TGNB stigma and discrimination. This study, the first to exclusively assess experiences of TGNB medical students and physicians, reveals that significant disparities still exist on the basis of gender identity.
---
AAMC MedEdPortal's Diversity, Inclusion and Health Equity Collection
Per the AAMC,  The MedEdPORTAL Diversity, Inclusion, and Health Equity Collection, in co-sponsorship with the American Dental Education Association (ADEA), features peer-reviewed educational resources for educators to advance institutional efforts in creating a diverse and inclusive culture and climate for all in order to drive clinical, educational, research and service excellence.
The University of the Incarnate Word School of Osteopathic Medicine is fully committed to educating employees, students, and all members of the community. Please take time review resources below for more information. 
---
AOA Statement Denouncing Racism and Inequality
Read about The American Osteopathic Association (AOA) and their long-standing commitment to addressing health disparities and supporting programs aimed at reducing violence of all kinds, including those that have a disproportionate impact on minority communities.
---
Racism and Reconciliation: Reversing Racism's Effect on Healthcare - Christian Medical and Dental Associations
Learn how the Christian Medical and Dental Associations are working to be part of the solution, specifically for the profession of healthcare. 
---
Anti-racism in Medicine Collection
Anti-racism in Medicine Collection Racism is discrimination based in an ideology of racial hierarchy that facilitates inequities between groups of people.
View the collection in the MedEdPortal
---
Unequal Treatment: Confronting Racial and Ethnic Disparities in Health Care - The National Academies Press
Consensus Study Report: Consensus Study Reports published by the National Academies of Sciences, Engineering, and Medicine document the evidence-based consensus on the study's statement of task by an authoring committee of experts. Reports typically include findings, conclusions, and recommendations based on information gathered by the committee and the committee's deliberations.
View the consensus study report at the The National Academies Press
---
What You Can Do About Racial Tensions by Ken Sande (Founder of Relational Wisdom-360-Going Beyond Emotional IntelligenceTM and author of The Peacemaker)
Read and learn more about Mr. Ken Sande's message.
---
Talking About Race/Being Antiracist - National Museum of African-American History and Culture
Visit the National Museum of African American History and Culture at the Smithsonian Institution to participate in the their conversation about race and learn how to be an antiracist.
---
Changing How Race Is Portrayed in Medical Education: Recommendations From Medical Students.
Nieblas-Bedolla, E., Christophers, B., Nkinsi, N. T., Schumann, P. D., and Stein, E. (2020). Changing How Race Is Portrayed in Medical Education: Recommendations From Medical Students. Academic Medicine: Journal of the Association of American Medical Colleges.
Abstract
The medical community has been complicit in legitimizing claims of racial difference throughout the history of the United States. Unfortunately, a rigorous examination of the role medicine plays in perpetuating inequity across racial lines is often missing in medical school curricula due to time constraints and other challenges inherent to medical education. The imprecise use of race—a social construct—as a proxy for pathology in medical education is a vestige of institutionalized racism. Recent examples are presented that illustrate how attributing outcomes to race may contribute to bias and unequal care. This paper proposes the following recommendations for guiding efforts to mitigate the adverse effects associated with the use of race in medical education: emphasize the need for incoming students to be familiar with how race can influence health outcomes; provide opportunities to hold open conversations about race in medicine among medical school faculty, students, and staff; craft and implement protocols that address and correct the inappropriate use of race in medical school classes and course materials; and encourage a large cultural shift within the field of medicine. Adoption of an interdisciplinary approach that taps into many fields, including ethics, history, sociology, evolutionary genetics, and public health is a necessary step for cultivating more thoughtful physicians who will be better prepared to care for patients of all racial and ethnic backgrounds.
---
An Institutional Approach to Fostering Inclusion and Addressing Racial Bias: Implications for Diversity in Academic Medicine.
Diaz, T., Navarro, J. R., and Chen, E. H. (2020).   An Institutional Approach to Fostering Inclusion and Addressing Racial Bias: Implications for Diversity in Academic Medicine.  Teaching and Learning in Medicine,  32(1), 110-116.
Abstract
Issue:
While an increasingly diverse workforce of clinicians, researchers, and educators will be needed to address the nation's future healthcare challenges, underrepresented in medicine (UIM) perspectives remain relatively absent from academic medicine.
Evidence:
Prior studies have identified differential experiences within the learning environment, lack of social supports, and implicit bias in evaluations as barriers to the academic interests and successes of UIM learners. The UCSF Differences Matter initiative has shown that interventions focused on recruiting diverse academic faculty, building strong social communities, facilitating cross-cultural communication and understanding, and mitigating disparities in summative assessments can positively affect the educational experience for UIM learners and contribute to their academic success.
Implications:
Institution-level initiatives are needed to foster a culture of inclusion, teach cultural humility, and build a culture of trust within academic medicine. Such initiatives should aim to teach a common language to discuss diversity issues and place the responsibility of fostering inclusion on all members of the academic community. Our own institutional experience with systemic cultural reform challenges others to develop novel approaches toward fostering inclusion in academic medicine.
---
Medical Students' Implicit Bias and the Communication of Norms in Medical Education.
Hernandez, R. (2018). Medical Students' Implicit Bias and the Communication of Norms in Medical Education.  Teaching and Learning in Medicine,  30(1), 112-117.
Abstract
Issue:
Medical educators should consider how institutional norms influence medical students' perceptions of implicit bias. Understanding normative structures in medical education can shed light on why this influence is associated with students' resistance to implicit bias.
Evidence:
Extant research across diverse fields of study uncovers and theorizes layers of norms and normative systems and how they are related to ethical behavior. This review bridges the fields of communication, bioethics, and medical education, constructing an organized foundation and common language by which researchers can build effective educational interventions. First, the nature and effects of implicit bias are described. Second, the nature of normative systems in medical education is explicated. Concepts from the fields of education and communication are transferred to medical education. Third, the structure of the communication of norms in medical education is revealed, through theoretical research in bioethics and empirical medical education research.
Implications:
Recommendations are provided for medical educators to improve activities intended to encourage reflection on implicit bias. These recommendations include reframing educational activities as endeavors in "personal" development and uncovering and transforming those normative structures that encourage resistance to implicit bias.