Welcome Message
The Office of Faculty Affairs (OFA) is committed to supporting faculty career development and advancement throughout the professional life cycle while promoting the needs of the University of the Incarnate Word School of Osteopathic Medicine (UIWSOM) administration in accordance with the SOM's Mission. The OFA oversees the functions of faculty recruitment, orientation, development, and promotions.
Under the guidance of the founding Dean, the OFA recruits diverse faculty members who will operate within the UIWSOM framework of lifelong learning through collaborative scholarship, innovative educational excellence and learner-centered curricula. All new faculty receive orientation to and training in the SOM's case-based, learner-centered curricular model, its guiding principles, and curriculum delivery methods. The OFA monitors faculty satisfaction and mission-alignment; facilitates access to training and compliance requirements; and, assists in faculty grievance issues, as set forth in the Faculty Handbook. The OFA coordinates and supervises the UIWSOM Faculty Development Program which facilitates evidence-informed and experiential learning for faculty through a longitudinal, relevant, and holistic approach. The team-based, inter-disciplinary Faculty Mentorship Program helps faculty achieve professional excellence and satisfaction as a program integrated into the overarching Faculty Development Program. Both programs enhance institutional vitality in support of enhanced student learning outcomes. The faculty promotions process is coordinated by the OFA in conjunction with the UIWSOM Promotions Committee.
We encourage you to explore the resources we offer through the information and links on this webpage. You may contact the OFA at officeoffacultyaffairs@uiwtx.edu or access contact information for individual members of our team here.
Focus on Faculty: July, 2021- Dr. Rebecca Sanchez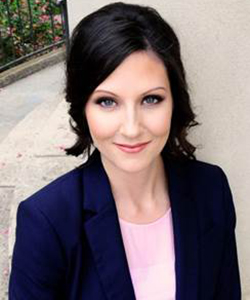 Dr. Rebecca Sanchez is an Assistant Professor of Microbiology in the Department of Clinical and Applied Science Education at the University of the Incarnate Word School of Osteopathic Medicine (UIW SOM).
In addition to delivering the Microbiology curriculum to OMS-I and OMS-II SOM learners, she is also passionate about increasing science literacy and retaining diverse students in S.T.E.M. with mentoring and research opportunities. Working towards that goal, Dr. Sanchez is a mentor on multiple SOM learner-centered research projects, which include topics such as "Correlating increased regional temperature with an increase incidence of Chagas disease", "Identifying Common Etiologies of Vaccine Hesitance in Texas" (this work was highlighted in the June edition of the San Antonio Medicine magazine), and "Identifying what makes an effective ER patient advocate". She is also a co-investigator leading a team of SOM learners in researching "Trends in Antimicrobial Resistance by San Antonio Zip Codes", which is done in partnership with the Texas Department of State Health Services (DSHS) and the Texas Antibiotic Resistance Laboratory Network (AR Lab Newtwork). And finally, she coauthored "Will Flu Shots and COVID Vaccines Be Combined? What Would the Future Look Like?", an article that appears in the July edition of the San Antonio Medicine magazine.
While managing various research projects for medical learners, Dr. Sanchez also enjoys mentoring high school students developing ideas for science fair projects and serving as a science fair judge for multiple competitions throughout San Antonio.
Finally, Dr. Sanchez is passionate about encouraging SOM learners to maintain their mental and physical fitness through routine exercise. She does this through the UIW SOM Running and Wellness Club, in which she is a faculty advisor. The UIW SOM Running and Wellness Club was officially created in October 2020 and partners yearly with the San Antonio Food Bank to raise monetary funds and collect donations for the Food Bank during the month of May. The Club meets twice a week, on Wednesday evenings and Saturday morning, to walk, run, and hike as a group which also builds comradery among Club members.