Welcome Message
The Office of Faculty Affairs (OFA) is committed to supporting faculty career development and advancement throughout the professional life cycle while promoting the needs of the University of the Incarnate Word School of Osteopathic Medicine (UIWSOM) administration in accordance with the SOM's Mission. The OFA oversees the functions of faculty recruitment, orientation, development, and promotions.
Under the guidance of the founding Dean, the OFA recruits diverse faculty members who will operate within the UIWSOM framework of lifelong learning through collaborative scholarship, innovative educational excellence and learner-centered curricula. All new faculty receive orientation to and training in the SOM's case-based, learner-centered curricular model, its guiding principles, and curriculum delivery methods. The OFA monitors faculty satisfaction and mission-alignment; facilitates access to training and compliance requirements; and, assists in faculty grievance issues, as set forth in the Faculty Handbook. The OFA coordinates and supervises the UIWSOM Faculty Development Program which facilitates evidence-informed and experiential learning for faculty through a longitudinal, relevant, and holistic approach. The team-based, inter-disciplinary Faculty Mentorship Program helps faculty achieve professional excellence and satisfaction as a program integrated into the overarching Faculty Development Program. Both programs enhance institutional vitality in support of enhanced student learning outcomes. The faculty promotions process is coordinated by the OFA in conjunction with the UIWSOM Promotions Committee.
We encourage you to explore the resources we offer through the information and links on this webpage. You may contact the OFA at officeoffacultyaffairs@uiwtx.edu or access contact information for individual members of our team here.
Focus on Faculty - Dr. Donald Currie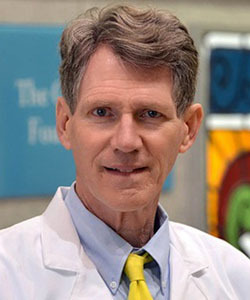 Dr. Currie has been recognized as one of San Antonio's Best Doctors in San Antonio Magazine for many years including 2020 in Physical Medical and Rehabilitation. Dr. Currie received his medical degree from the University of Texas Southwestern Medical School. He completed his physical medicine and rehabilitation residencies at Baylor University Medical Center, and at The University of Washington School of Medicine in Seattle. He has special skills and interests in caring for the most severely disabled children and in the technology that can help these children attain the best outcomes and best quality of life. He is the only doctor to have won the Presidential Awards for both Teaching and Clinical Excellence at the University of Texas Health San Antonio. Dr. Currie is also certified by the American Board of Electrodiagnostic Medicine. We are proud and honored to have Dr. Currie on our Doctor of Osteopathic Clinical Skills (DOCS) Team. Congratulations, Dr. Currie!