Welcome Message
The Office of Faculty Affairs (OFA) is committed to supporting faculty career development and advancement throughout the professional life cycle while promoting the needs of the University of the Incarnate Word School of Osteopathic Medicine (UIWSOM) administration in accordance with the SOM's Mission. The OFA oversees the functions of faculty recruitment, orientation, development, and promotions.
Under the guidance of the founding Dean, the OFA recruits diverse faculty members who will operate within the UIWSOM framework of lifelong learning through collaborative scholarship, innovative educational excellence and learner-centered curricula. All new faculty receive orientation to and training in the SOM's case-based, learner-centered curricular model, its guiding principles, and curriculum delivery methods. The OFA monitors faculty satisfaction and mission-alignment; facilitates access to training and compliance requirements; and, assists in faculty grievance issues, as set forth in the Faculty Handbook. The OFA coordinates and supervises the UIWSOM Faculty Development Program which facilitates evidence-informed and experiential learning for faculty through a longitudinal, relevant, and holistic approach. The team-based, inter-disciplinary Faculty Mentorship Program helps faculty achieve professional excellence and satisfaction as a program integrated into the overarching Faculty Development Program. Both programs enhance institutional vitality in support of enhanced student learning outcomes. The faculty promotions process is coordinated by the OFA in conjunction with the UIWSOM Promotions Committee.
We encourage you to explore the resources we offer through the information and links on this webpage. You may contact the OFA at officeoffacultyaffairs@uiwtx.edu or access contact information for individual members of our team here.
Introducing Vital Voices, a new podcast from the Josiah Macy Jr. Foundation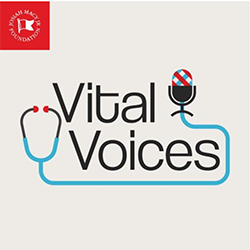 The Macy Foundation is excited to announce the launch of our new podcast, Vital Voices!
The podcast is a follow up to our webinar series "Taking Action on Harmful Bias and Discrimination in Clinical Learning Environments." In each episode, Macy Foundation President, Holly J. Humphrey will be joined by guest experts to discuss issues related to bias and discrimination in clinical learning environments.
Episodes will be posted every other Monday and our preview episode is available for download wherever you get your podcasts and on our website.