Welcome Message
The Office of Faculty Affairs (OFA) is committed to supporting faculty career development and advancement throughout the professional life cycle while promoting the needs of the University of the Incarnate Word School of Osteopathic Medicine (UIWSOM) administration in accordance with the SOM's Mission. The OFA oversees the functions of faculty recruitment, orientation, development, and promotions.
Under the guidance of the founding Dean, the OFA recruits diverse faculty members who will operate within the UIWSOM framework of lifelong learning through collaborative scholarship, innovative educational excellence and learner-centered curricula. All new faculty receive orientation to and training in the SOM's case-based, learner-centered curricular model, its guiding principles, and curriculum delivery methods. The OFA monitors faculty satisfaction and mission-alignment; facilitates access to training and compliance requirements; and, assists in faculty grievance issues, as set forth in the Faculty Handbook. The OFA coordinates and supervises the UIWSOM Faculty Development Program which facilitates evidence-informed and experiential learning for faculty through a longitudinal, relevant, and holistic approach. The team-based, inter-disciplinary Faculty Mentorship Program helps faculty achieve professional excellence and satisfaction as a program integrated into the overarching Faculty Development Program. Both programs enhance institutional vitality in support of enhanced student learning outcomes. The faculty promotions process is coordinated by the OFA in conjunction with the UIWSOM Promotions Committee.
We encourage you to explore the resources we offer through the information and links on this webpage. You may contact the OFA at officeoffacultyaffairs@uiwtx.edu or access contact information for individual members of our team here.
Focus on Faculty - Dr. Linda Grace Solis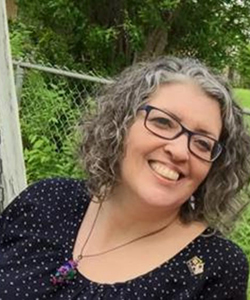 Dr. Linda Grace Solis joined the faculty at UIWSOM in June 2017, just weeks before the inaugural DO class matriculated. She has long been passionate about diversity, equity, and inclusion (DEI) issues as related to medical education and to healthcare in general. Joining the faculty at UIWSOM has allowed her a much broader platform for this work. She serves on the inaugural Council on Diversity and Equity (CDE) at the American Association of Colleges of Osteopathic Medicine (AACOM) and has been instrumental in amplifying the need for physicians to demonstrate competence in social justice and equity issues in order to be exemplary osteopathic physicians. Through the CDE, Dr. Solis had the opportunity to work with an inter-professional and cross-organizational team to create a suite of interactive, online learning modules focused on topics that are foundational to DEI competence. These modules are available free of charge at NRMNet. In addition to her work at the national level, Dr. Solis is involved with DEI efforts at both UIWSOM and at the larger university. She serves as faculty advisor for several learner affinity groups at UIWSOM and loves getting to know the learners through these groups. She delights in mentoring students on their journeys to and through medical school, especially those students who are considered to be under-represented in healthcare. Finally, she serves on the Board of Directors for the National Healthcare Diversity Council and as chair of the Board of Commissioners for the Holocaust Memorial Museum of San Antonio. She is also a member of the National Association of Diversity Officers in Higher Education (NADOHE) and an inaugural member of that organization's Health Professions Chapter. Dr. Solis holds a PhD in Leadership Studies from Our Lady of the Lake University. She fervently hopes for, and works toward, a more just and equitable world and is doing what she can to bring those ideals to medical education and healthcare.