We are proud to spotlight the University of the Incarnate Word School of Osteopathic Medicine faculty and their achievements through the City of San Antonio and the field of research and medicine. Please take some time to view previous faculty who have been featured on the Office of Faculty Affairs homepage.
Fall 2021- Dr. Rebecca Sanchez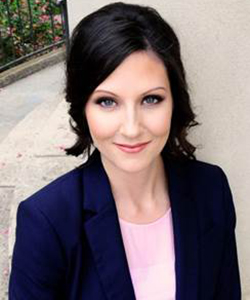 Dr. Rebecca Sanchez is an Assistant Professor of Microbiology in the Department of Clinical and Applied Science Education at the University of the Incarnate Word School of Osteopathic Medicine (UIWSOM).
In addition to delivering the Microbiology curriculum to OMS-I and OMS-II SOM learners, she is also passionate about increasing science literacy and retaining diverse students in S.T.E.M. with mentoring and research opportunities. Working towards that goal, Dr. Sanchez is a mentor on multiple SOM learner-centered research projects, which include topics such as "Correlating increased regional temperature with an increase incidence of Chagas disease", "Identifying Common Etiologies of Vaccine Hesitance in Texas" (this work was highlighted in the June edition of the San Antonio Medicine magazine), and "Identifying what makes an effective ER patient advocate". She is also a co-investigator leading a team of SOM learners in researching "Trends in Antimicrobial Resistance by San Antonio Zip Codes", which is done in partnership with the Texas Department of State Health Services (DSHS) and the Texas Antibiotic Resistance Laboratory Network (AR Lab Network). And finally, she coauthored "Will Flu Shots and COVID Vaccines Be Combined? What Would the Future Look Like?", an article that appears in the July edition of the San Antonio Medicine magazine.
While managing various research projects for medical learners, Dr. Sanchez also enjoys mentoring high school students developing ideas for science fair projects and serving as a science fair judge for multiple competitions throughout San Antonio.
Finally, Dr. Sanchez is passionate about encouraging SOM learners to maintain their mental and physical fitness through routine exercise. She does this through the UIWSOM Running and Wellness Club, in which she is a faculty advisor. The UIWSOM Running and Wellness Club was officially created in October 2020 and partners yearly with the San Antonio Food Bank to raise monetary funds and collect donations for the Food Bank during the month of May. The Club meets twice a week, on Wednesday evenings and Saturday morning, to walk, run, and hike as a group which also builds comradery among Club members.
Summer 2021- Dr. Hans Bruntmyer
Paving the Way
In addition to being a U.S. Air Force Retired Veteran, Dr. Hans Bruntmyer is a busy clinical faculty member (Emergency Medicine) at the University of the Incarnate Word School of Osteopathic Medicine. Through long hours, community engagement, and careful planning, Dr. Bruntmyer and his wife (Tichelle Bruntmyer, PhD) successfully founded the Street Medicine San Antonio program in 2019. This program provides services to the Bexar Country community where, in most cases, patients seek primary care, wound care, and pain management treatments. Through collaborative efforts, Street Medicine is able to provide the homeless population resources that support housing, rehabilitation, and other health needs.
Carrying a backpack filled with essential medical supplies, Dr. Bruntmyer and his team walk the streets of San Antonio and surrounding areas helping anyone they come across who has a need. Not only is providing medical care a priority, Dr. Bruntmyer and his team also provide prayer and fellowship. At times, the team is contacted by law enforcement for support in difficult cases which calls for the team to meet the individual where they are physically and emotionally. Meeting the patient where they are is the first step to building a trusting rapport. According to Matthew 25:35, "For I was hungry and you gave me food, I was thirsty and you gave me drink, I was a stranger and you welcomed me." This describes the work God has called upon each of us to do. Showing kindness to strangers and making them feel welcome is a calling. Jesus sees it as this, "Truly I say to you, as you did it to one of the least of these my brothers, you did it to me." (Matt 25:40). God has called upon Dr. Bruntmyer to connect to those in need through prayer, resources, and fellowship.
Most recently, Dr. Bruntmyer was honored with the 2020 Street Outreach Hero Award for his community engagement support and involvement.
Spring 2021- Dr. Linda Grace Solis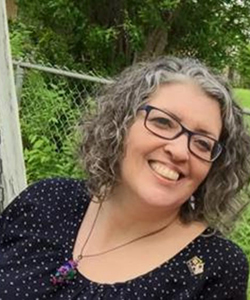 Dr. Linda Grace Solis joined the faculty at UIWSOM in June 2017, just weeks before the inaugural DO class matriculated. She has long been passionate about diversity, equity, and inclusion (DEI) issues as related to medical education and to healthcare in general. Joining the faculty at UIWSOM has allowed her a much broader platform for this work. She serves on the inaugural Council on Diversity and Equity (CDE) at the American Association of Colleges of Osteopathic Medicine (AACOM) and has been instrumental in amplifying the need for physicians to demonstrate competence in social justice and equity issues in order to be exemplary osteopathic physicians. Through the CDE, Dr. Solis had the opportunity to work with an inter-professional and cross-organizational team to create a suite of interactive, online learning modules focused on topics that are foundational to DEI competence. In addition to her work at the national level, Dr. Solis is involved with DEI efforts at both UIWSOM and at the larger university. She serves as faculty advisor for several learner affinity groups at UIWSOM and loves getting to know the learners through these groups. She delights in mentoring students on their journeys to and through medical school, especially those students who are considered to be under-represented in healthcare. Finally, she serves on the Board of Directors for the National Healthcare Diversity Council and as chair of the Board of Commissioners for the Holocaust Memorial Museum of San Antonio. She is also a member of the National Association of Diversity Officers in Higher Education (NADOHE) and an inaugural member of that organization's Health Professions Chapter. Dr. Solis holds a PhD in Leadership Studies from Our Lady of the Lake University. She fervently hopes for, and works toward, a more just and equitable world and is doing what she can to bring those ideals to medical education and healthcare.
October 2020 - Dr. Melissa Walker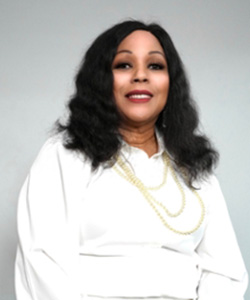 Dr. Melissa Walker has been in practice in the near eastside of San Antonio for greater than fifteen years. She not only practices there but continues to involve herself in the community by providing programs to help educate and inspire its residents. In 2012, she started an organization called Heal the Healer San Antonio and hosts a yearly symposium for both formal and informal caregivers. Recently, Dr. Walker has been selected to be a member of a community advisory board for the former Rivard Report (The San Antonio Report). She has also appeared as a panelist for multiple COVID-19 conversations. Dr. Walker is a graduate of Midwestern University Chicago College of Osteopathic Medicine. She completed her family medicine residency at the University of Texas Medical Branch in Galveston. Dr. Walker has received numerous awards and recognitions for both her practice of medicine and volunteerism. She is a vivacious public speaker who often gives a medical and spiritual perspective in her talks. She often comments that "Medicine is a calling and I hope to make a difference in the lives of all patients I encounter."
September 2020 - Dr. Donald Currie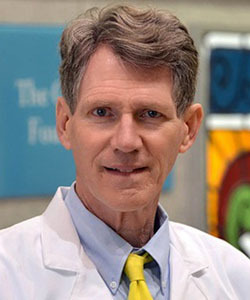 Dr. Currie has been recognized as one of San Antonio's Best Doctors in San Antonio Magazine for many years including 2020 in Physical Medical and Rehabilitation. Dr. Currie received his medical degree from the University of Texas Southwestern Medical School. He completed his Physical Medicine and Rehabilitation residencies at the combined program of the Baylor University Medical Center and University of Texas Southwestern Medical School in Dallas, and the University of Washington in Seattle. He has special skills and interests in caring for the most severely disabled children and in the technology that can help these children attain the best outcomes and best quality of life. He is the only doctor to have won the Presidential Awards for both Teaching and Clinical Excellence at the University of Texas Health Science Center at San Antonio. Dr. Currie is also certified by the American Board of Electrodiagnostic Medicine. We are proud and honored to have Dr. Currie on our Doctor of Osteopathic Clinical Skills (DOCS) Team. Congratulations, Dr. Currie!