STUDENT DOCTOR OF THE YEAR 2018:
Jennifer Gaertner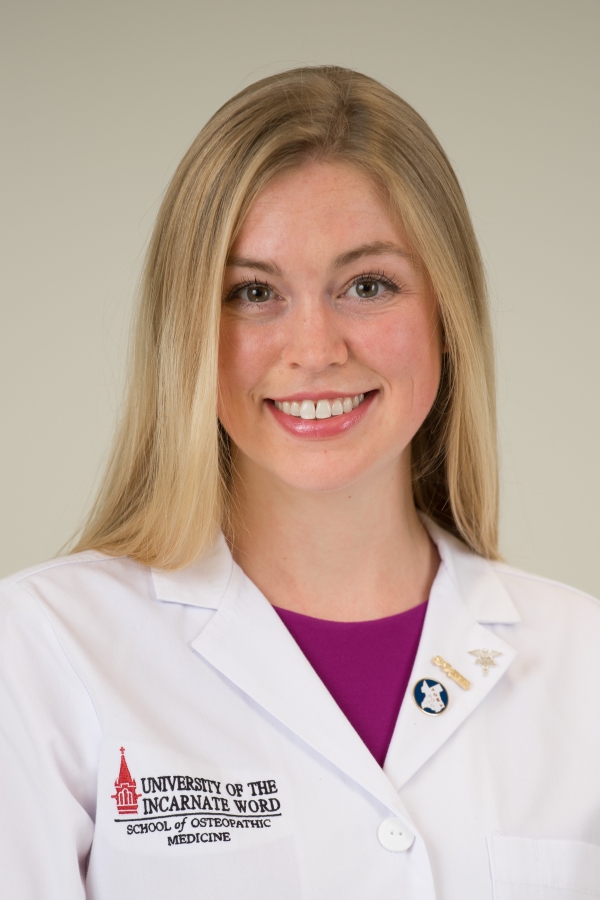 The Student D.O. of the Year Award (SDOY) is an award presented annually by the Council of Osteopathic Student Government Presidents (COSGP) to a student that embodies the principles of osteopathic medicine. This individual represents Leadership, Commitment to Community Service, Dedication to the Profession, Professionalism, and Embodiment of the Osteopathic Philosophy. 
The following learners were also nominated for this award: Alisha Ness, Alyson Randall, Jiwon Yang, Kayla Floyd, Kaylyn Snook, Sara Buckley, Sioned Kirkpatrick, Sam Mota-Martinez and Sam Panvini.
---
Check out what our UIWSOM learners are up to in the local, national, and global communities!
Brian Laverentz, UIWSOM Class of 2022 - Awarded the Rossnick Grant

UIWSOM Class of 2022 Learner, Brian Laverentz, was awarded the Rossnick Grant.

"The AOF Rossnick Humanitarian Grant allows students, residents and physicians to take humanism to the next level, showcasing the compassion of the osteopathic profession around the globe.

The Rossnick Humanitarian Grant provides funding for members of the osteopathic profession to travel to underserved, underdeveloped or disaster stricken areas to provide medical care to people who need it the most."

- American Osteopathic Foundation

Brian Laverentz: Anyone who has spent more than 10-minutes with me knows how much Haiti matters to me. I have wanted to return and continue work there since my first trip in 2010. I have some experience in providing medical care in resource limited environments but taking on more of a provider role led to substantial growth. I also learned a lot about logistics and ethics of humanitarian care. The biggest take-away is both provisions for care as well as strategies for continuing care after our departure and until our next return. Haiti will absolutely be a part of my future practice in some shape or form, and this trip allowed me to continue not only my global medicine clinical growth, but also in better understanding Haitian culture and their medical needs. At present, I am discussing possible research avenues to provide much needed public health information with the lead physician of Health Corps Haiti. 

Sharin Hjella, UIWSOM Class of 2022 - Mission trip to Haiti

UIWSOM Class of 2022 Learner, Sharin Hjella, attended a mission trip to Haiti with some fellow students.

"My name is Sharin. I was born and raised in Guatemala until the age of 20. My missions to help others began on a school trip at the age of eleven to a rural area of Guatemala. Immediately my heart broke and filled with disappointment when I took a step off the bus. Seeing a child playing with bones as his imagination transformed them into a toy car made me understand that my mission in life is to help others.  From this point on, I have been on many other similar trips but this trip to Haiti expanded my list of addictions/passions.

Although, it made me feel home – due to the high resemblance in the environment of a third world country, I learn much about their culture, their gratefulness for little things, and their amusement for mundane things to us, but peculiar things to them. Additionally, being with other medical students in this trip has expanded my view in different perspectives by approaching and problem solving in less than ideal situations during our patient examinations, diagnosis, and treatment.

Haiti, one more addiction/passion added to my book, taught me there are innumerable things to continue to learn and innumerable things to be grateful for."

Heather Mendizabal, UIWSOM Class of 2022 - Mission Trip to Haiti

UIWSOM Class of 2022 Learner, Heather Mendizabal, attended a mission trip to Haiti with some fellow students.

"Having focused my MPH degree on Global Health & Tropical Medicine, I wanted to participate in the Haiti trip to finally be able to apply what I learned in the classroom to real life. It was important for me to choose a trip that emphasized ethical & sustainable humanitarian aid, and Health Corps Haiti was the perfect organization that worked in conjunction with the local health departments to provide continuity of care in our absence. In our short time there, we received a 5-day crash course in cradle-to-grave primary care which helped reshape my perspective on true family medicine."

Taylor Sullivan, OMS-II - Invited to Present at the American College of Physicians Annual Internal Medicine Meeting

Taylor Sullivan (OMS-II) has been invited to present at the American College of Physicians Annual Internal Medicine Meeting in Philadelphia on April 13th.

Ms. Sullivan is selected to participate in the ACP Medical Student Research & Clinical Vignette Poster Competition. Her abstract is entitled: Dermatomyositis: A Delayed Diagnosis in an Uninsured Patient.

Ali Sawani - Featured in Article for Texas Medical Association

Ali Sawani was featured in an article for the Texas Medical Association alongside some faculty members.

"At first this school wasn't high on my list," the second-year student from Dallas said. "I'd always heard that with new schools, you need to be careful. They're still straightening things out, and you're kind of the guinea pigs." Some of Mr. Sawani's misgivings were confirmed at his initial interview in 2016: The Catholic medical school in San Antonio would not open its doors until July 2017, and at the time of the interview, the campus' four buildings were not operational. Yet other things about the school appealed to him. "The thing I loved the most was the atmosphere that I felt here," Mr. Sawani said. "I got to interact with the dean one-on-one during the interview while we were waiting in line for lunch. … I went on a few other interviews before I came here, and at very few other places did the dean even speak." He also discovered that differing spiritual beliefs are discussed openly in classes in relation to patient needs and the philosophical dilemmas of medical care. That openness reflects the school's medical education philosophy in general." Read the full article here.

Kaylyn Snook, UIWSOM Class of 2021 - Co-wrote Article with Dr. Thomas Schlenker and Dr. Anil Mangla on How UIW is Using Vaccination Drives to Help Prevent Cancer

 

Published Class of 2021 UIWSOM Learner, Kaylyn Snook, co-wrote an article with Dr. Thomas Schlenker and Dr. Anil Mangla on how UIW is using vaccination drives to help prevent cancer.

Check out the article here.

"Kaylyn Snook is a second-year medical student at the University of the Incarnate Word School of Osteopathic Medicine. She has an interest in preventative and community health and was part of a major drive to provide education and discuss the benefits of HPV vaccination while completing her masters in biomedical science. Snook has researched Chagas disease with faculty members focusing on both the clinical and mechanistic biochemistry of the parasite."

Marc Nicholes, UIWSOM Class of 2021- Inspired his Father to Return to Military Service as Emergency Medicine Physician

Class of 2021 Learner, Marc Nicholes, inspired his father to return to military service as an emergency medicine physician.

Check out the article here.


"It was cool seeing my dad being proud of putting the uniform back on again, and get back out there to serve the Soldiers that need medical care," said Marc, who recalls being a young child when his father last put on the uniform. "Being able to give him the oath is an honor I don't think a lot of sons get to have with their dads just because of the way it normally works, you know."

Catherine Osterman, UIWSOM Class of 2021 - Invited to Present in the Clinical Vignette Poster Competition of the Texas State ACP Chapter Meeting

UIWSOM Class of 2021 Learner, Catherine Osterman, was invited to present in the Clinical Vignette Poster Competition of the Texas State ACP Chapter Meeting in Austin on November 17th

Ms. Osterman is one of fifty medical students selected statewide to participate in this year's competition. Dr. Vincent Fonseca is the faculty advisor for her abstract entitled: Ticked Off: A Case of Delayed Hypersensitivity to Red Meat.

Texas State ACP Chapter Meeting Website
---
Articles Featuring Our UIWSOM Students