Blandine Bustamante Helfrich MD, MPH, FCAP, MEHP
Dr. Blandine Bustamante-Helfrich is Professor of Pathology and Associate Dean of the Office of Faculty Affairs at the University of the Incarnate Word School of Osteopathic Medicine. She earned her M.D. at Weil Cornell Medical College in New York. Her postgraduate residency training in Anatomic and Clinical Pathology was completed at Orlando Regional Medical Center in Orlando, FL. Dr. Bustamante-Helfrich subsequently completed a Fellowship in Obstetric, Gynecologic and Perinatal Pathology at the University of Pittsburgh, Magee-Women's Hospital, Pittsburgh, PA. Dr. Bustamante-Helfrich has over 20 years of experience practicing hospital-based pathology in Boca Raton, Florida and Fort Wayne, Indiana. She was Clinical Associate Professor of Pathology at Indiana University School of Medicine, Fort Wayne Center for Medical Education (1994-2005), and thrice awarded the Clinical Professor of the Year Award. After retiring from clinical practice in 2010, Dr. Bustamante-Helfrich served in the mission field, traveling to China, Poland, France and the Republic of North Macedonia. In 2013, she was Visiting Professor of Pathology on the Faculty of Medical Sciences, at Goce Delčev University, Štip.
Upon her return to the USA, Dr. Bustamante-Helfrich pursued a Master of Public Health degree. She is a graduate of the Centennial Class (2016) of the Johns Hopkins Bloomberg School of Public Health, where she concentrated in Women's and Reproductive Health. Her public health research focuses on associations between placental pathology, maternal characteristics, and birth outcomes. Her interests in medical education research include collaborative and individualized faculty development initiatives, innovative faculty mentorship, and promoting physician personhood through faculty development
Emma Santa Maria, PhD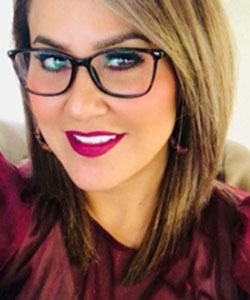 Dr. Emma Santa Maria is the Director of Professional Development and an Assistant Professor of Multicultural Education at the University of the Incarnate Word School of Osteopathic Medicine. She obtained her undergraduate degree in Biology and Chemistry and her Doctorate in Higher Education from the University of the Incarnate Word. Some of her areas of expertise include medical education (UME, GME, CME), policy design and development at the state level, executive-level personnel management, immigration policy, professional development, executive-level administration, and curriculum and design. Research interests include a wide-range of social disparities, program evaluation, minorities in higher education, and barriers faced by undocumented individuals. Dr. Santa Maria's Mexican roots ignite her passion in identifying pathways for the undocumented to overcome barriers as they pursue a higher education.
When not on campus, Dr. Santa Maria spends her free time fundraising, networking, and supporting the community through various charitable and non-profit organizations. As an active member in the Junior League of San Antonio, she continues to find ways of serving and proudly represents her alma mater with every partnership she forms. 
Julie Crane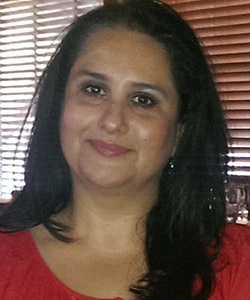 Julie is the Continuing Medical Education (CME) Coordinator for UIWSOM in the Office of Faculty Affairs (OFA) and brings with her a diverse background. Prior to her arrival, Julie worked for University of Texas Health San Antonio for over twelve years directly supporting clinical and research executive leadership and managing CME and research-resident programs. She has also worked for European and Asian companies as part of their global executive team.
Outside of her work life, Julie enjoys spending time with her family and pets, watching foreign dramas, and learning new languages. Julie is also the family historian and is fascinated by the discoveries that she has made during her ten years of research. As part of her bucket-list she is planning a visit to several European countries deeply tied to her family roots.