UIWSOM Welcomes New Class of Learners at Annual White Coat Ceremony
August 10, 2021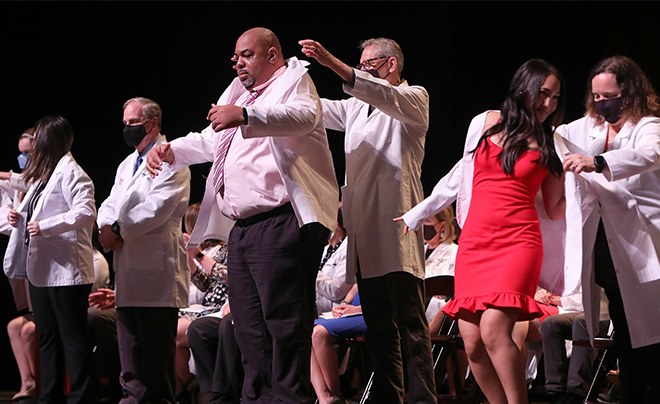 On Saturday, July 24, the UIW School of Osteopathic Medicine (UIWSOM) officially welcomed its fourth and fifth classes of learners at the annual White Coat Ceremony at the Tobin Center for the Performing Arts.
Due to 2020 COVID-19 restrictions, the school's fourth class celebrated a delayed ceremony one year into their studies. The Class of 2024 was celebrated at a 10 a.m. ceremony, where 162 students received their white coats surrounded by loved ones and recited the Osteopathic Pledge of Commitment. 
The Class of 2025 followed at a 2 p.m. ceremony where 167 new learners officially began their journeys to becoming physicians. 
In addition to a welcome from Dr. Robyn Phillips-Madson, founding dean, attendees listened to remarks from UIW President Dr. Thomas Evans and a keynote address by Karen Nichols, DO, MA, MACOI, CS. Dr. Nichols was the dean of the Midwestern University/Chicago College of Osteopathic Medicine from 2002 through July 2018. In 2010-11, she served as president of the American Osteopathic Association (AOA). In addition, she is the 2020-2022 Chair of the Board of Directors of the Accreditation Council for Graduate Medical Education. 
Thank you to all administration, faculty, staff and volunteers who made this day possible. Congratulations to the UIWSOM Classes of 2024 and 2025!