UIW School of Osteopathic Medicine Set to Make History
May 5, 2021
UIW School of Osteopathic Medicine Set to Make History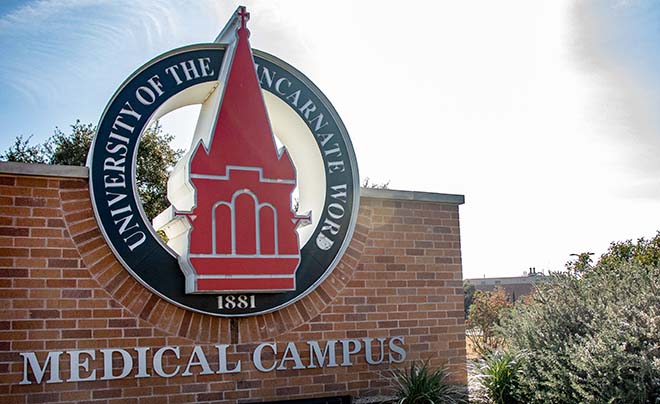 San Antonio – The University of the Incarnate Word (UIW) is proud to announce that the inaugural class of Doctor of Osteopathic Medicine (D.O.) students at the UIW School of Osteopathic Medicine (UIWSOM) will graduate on Saturday, May 8, 2021 at 9 a.m. The graduation will take place at Benson Stadium on the UIW Broadway Campus, with 137 UIWSOM D.O. graduates crossing the stage.
"This is a historic moment, not only for our University community, but for the future of healthcare," says Dr. Thomas M. Evans, UIW president. "This class has the unique distinction of being the first class of D.O.s to be formed in the Mission of UIW, graduate from UIWSOM and prepare for their role as caring osteopathic physicians during a global pandemic. The resilience and dedication to service shown by each graduate is only further proof that this generation of osteopathic physicians will make real, tangible impacts on the lives of their patients and the communities in which they serve."
The UIWSOM inaugural class will now move on to their residencies where they will spend the next three to seven years in training depending on their specialties.  Fifty five percent of the Class of 2021 will spend their time in in primary care specialties, including internal medicine, pediatrics and family medicine. Many will work to provide care in Texas, with eighty four graduates landing residencies in the state. Eight graduates are military service members in the Army and Navy who will spend the next years in continued service to our country.
"I am so proud of our inaugural class and everyone in the SOM learning community who worked so selflessly to reach this milestone," says Dr. Robyn Philips-Madson, dean of the UIW School of Osteopathic Medicine. "We're very grateful for the Sisters of Charity of the Incarnate Word, our UIW colleagues, community partners, and physician preceptors for their support. The Class of 2021 engaged with grace, a pioneering spirit, flexibility and creativity when faced with the pandemic and the challenges of being the first class. They are compassionate osteopathic physicians who care about the vulnerable and marginalized, and I have no doubt they will change the face of osteopathic medicine, healthcare, and their communities in the future."
The University of the Incarnate Word School of Osteopathic Medicine continues the tradition of its founding congregation, the Sisters of Charity of the Incarnate Word, to bring quality and compassionate healthcare to where it is needed most. UIWSOM's mission is to empower all members of the medical education community to achieve academic, professional and personal success and develop a commitment to lifelong learning through excellence in learner–centered, patient-focused education, justice-based research and meaningful partnerships of osteopathic clinical service.