UIW and Rust College Reach Historic Agreement
September 29, 2020
Minority-Serving Institutions Set to Open the Doors for Future Healthcare Professionals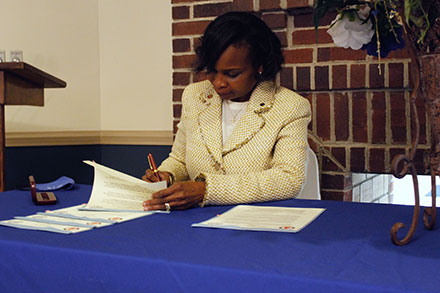 San Antonio – Sept. 29, 2020 – The University of the Incarnate Word (UIW) and Rust College have entered into a series of memorandums of understanding that will help pave the way for Rust College students to realize their dreams of a career in healthcare. Under the agreements, UIW will offer guaranteed interview spots and seats in each cohort for qualified students from Rust College in UIW's schools of Osteopathic Medicine, Pharmacy, Optometry and Physical Therapy. The programs collectively will be known as UIW Health Professions Pathway.
Both institutions pride themselves on service to a traditionally underserved student population.  UIW is a recognized Hispanic Serving Institution (HSI) and Rust College is a proud Historically Black College or University (HBCU).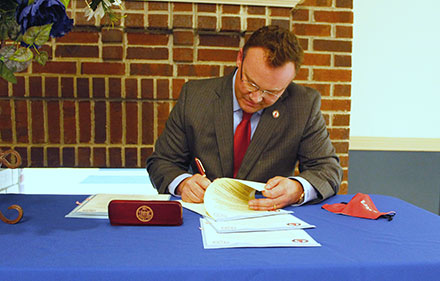 "This partnership, which is our first of its kind with an HBCU, is truly a blessing for the University of the Incarnate Word," says Dr. Thomas M. Evans, UIW president. "We are excited to extend opportunities for Rust College graduates to pursue professional degrees in healthcare via these unique pathways. These agreements will bring future leaders in health professions to UIW for study and, in turn, help to make our communities a better place as graduates."
"I am incredibly excited about this new collaborative effort between Rust College and the University of the Incarnate Word to facilitate a pipeline of minority students entering the healthcare field," says Dr. Ivy Taylor, president of Rust College. "Through this new partnership, Rust College students will increase their chances for admission to health profession schools. Increasing the numbers of minority health professionals will likely lead to better health outcomes for minority communities. Through this partnership, we hope to contribute toward that effort and toward better health outcomes for all, but specifically for Blacks who are disproportionately affected by many diseases as we see happening right now with COVID-19."
Under the agreements, which were initiated by Evans, the UIW School of Osteopathic Medicine will guarantee up to 10 interview slots for qualified students from Rust College. The Rosenberg School of Optometry will also guarantee up to 10 interview slots for qualified students. The School of Physical Therapy will guarantee 10 interviews and 2 seats for qualified students. And the Feik School of Pharmacy will guarantee interview slots at a number to be determined by availability. In addition, both institutions have agreed to continue to find common ground and other ways to create pathways for Rust College students to achieve at UIW in the areas of business and social sciences.
Rust College, located in Holly Springs, Mississippi, is a historically Black, co-educational, senior liberal arts college founded in 1866 by the Freedman's Aid Society of the Methodist Episcopal Church to offer quality programs in business, education, humanities, science and math, and social science to prepare students for leadership and service in a global society.
UIW was founded in 1881 by the Sisters of Charity of the Incarnate Word. It is the largest Catholic university in Texas. UIW programs constitute a liberal education that fosters a well-grounded intellectual resilience, a disposition toward lifelong learning, and an acceptance of responsibility for the ethical consequences of our ideas and actions.