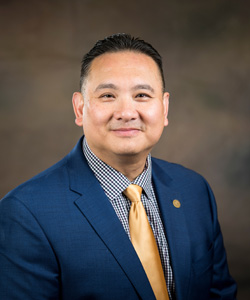 Together with the faculty, administration, and staff, I am excited to welcome you to the University of the Incarnate Word School of Osteopathic Medicine (UIWSOM). Each year, the arriving class of new learners bring with them such exhilaration, promise, and possibility. It is truly an exciting time! You have followed many unique paths to arrive here. Your diverse backgrounds, individual experiences, and special talents all contribute to a rich community that enhances not only our school but the practice of osteopathic medicine.
The UIWSOM community is committed to improving the health and wellbeing of our local, national, and global communities. We bring together world-class researchers and faculty from diverse health-related fields to train our future osteopathic physicians. Promoting culturally, linguistically, and community responsive care for all patients to enhance patient safety and improve patient outcomes are core principles of our mission.
Our curriculum is forward thinking and distinctive. UIWSOM graduates complete medical school with the tools to effectively communicate with patients, diagnose and treat diseases, and to lead with compassion and empathy. You are joining part of a truly impactful community.
We look forward to seeing you on campus and at events. Please contact us if you have any questions.
Blessings,
John T. Pham, DO
Dean and Chief Academic Officer